History
From general contracting to commercial real estate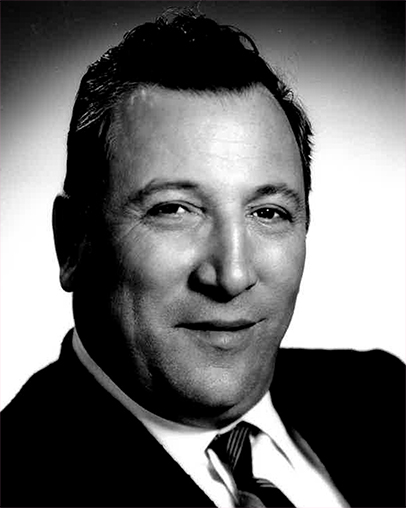 1931
At the age of 21, Dan Caputo, Sr. starts Dan Caputo Co., specializing in general contracting and based out of San Jose, California.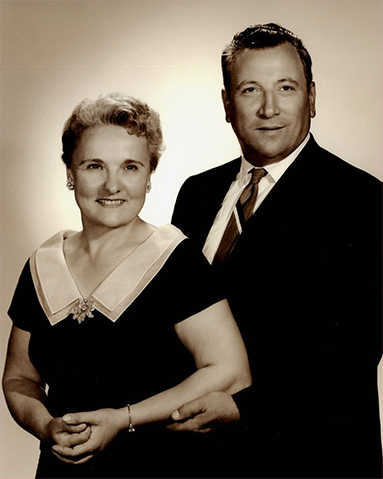 1945
Dan's wife, Minnie, left her job as a high school teacher and joined her husband in the construction business. Minnie worked together with her husband up until just days before her death in 1986.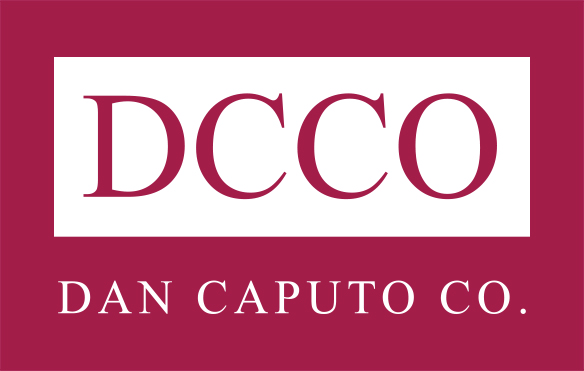 1953
Dan Caputo Co. officially becomes an incorporated company.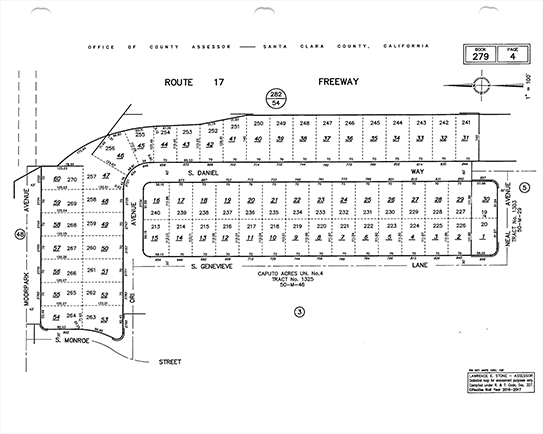 1955
Dan and Minnie—using Dan Caputo Co. as a foundation—begin to purchase and subdivide land into residential lots in the west San Jose area. They would sell those residential lots to small local homebuilders. These residential land developments, along with other real estate developments and transactions, would be kept separate from, but managed by Dan Caputo Co.
1960
In the 1960s, the company began to construct light industrial buildings as investment properties. The first of these was a 130,000 square foot warehouse on North Tenth Street in San Jose. That project was followed by construction on Lewis Road (94,000 square feet), Daylight Avenue (18,000 square feet), and Phelan Avenue (106,000 square feet).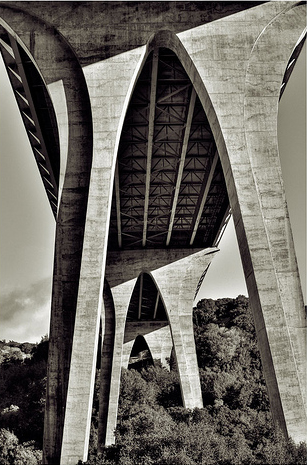 1965
Dan Caputo Co. completes construction on the Eugene A. Doran Bridge, an eight-lane portion of Highway 280 near Crystal Springs Reservoir. In 1969, the bridge was a national award winner as the "Most Beautiful Medium Span High Clearance Bridge" in the United States. The bridge is located 280-feet above the canyon floor and is suspended on four split gothic arch columns.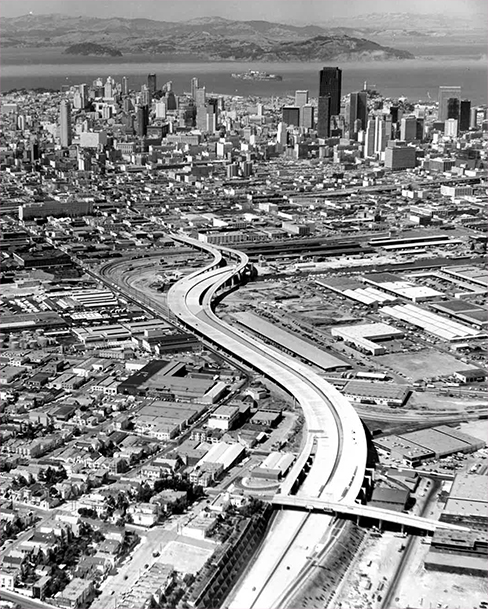 1970
The company completes construction on the China Basin Viaduct on Highway 280 in San Francisco, which is a one mile long overpass that required 410,000 cubic yards of cast-in-place concrete. Except for the overwater crossing of the 150 foot wide China Basin channel, right-of-way for the project consisted of the aerial space above a network of railroad track upon which an average of fifty trains passed per day during the project. Contract specifications prohibited interruption of any of these trains during construction.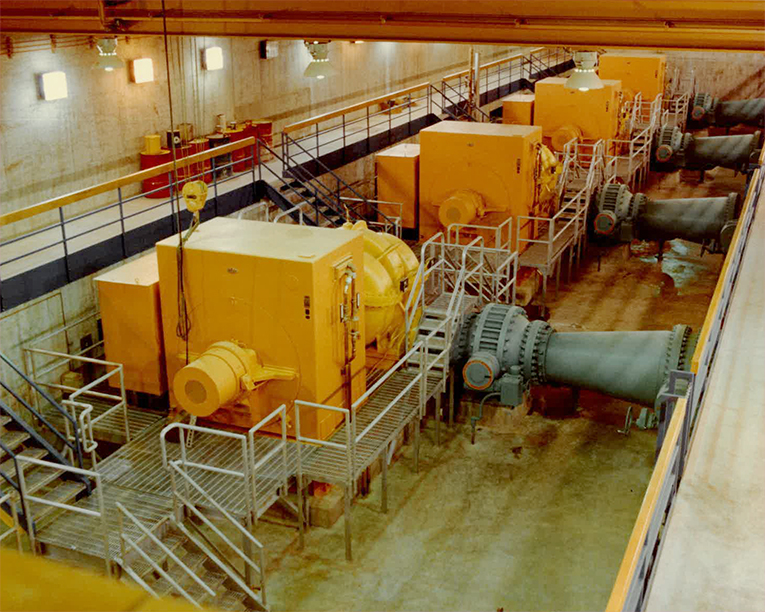 1975
Walnut Creek No. 3 Pumping Plant for East Bay Municipal District is completed. This project was a three story deep underground reinforced concrete pumping plant measuring approximately 179' x 51'. It also included the installation of four 3,500 HP pumps, steel pipes up to 87" in diameter and the construction of a 115 KV electrical substation.
1976
Dan Caputo Co. finishes construction at Geary Boulevard at Masonic Avenue Underpass in San Francisco. The project was a sixty foot wide cut and cover tunnel built on center line of Geary Boulevard over a distance of five city blocks. Geary Boulevard is one of the busiest streets in San Francisco and construction was completed without interruption of pedestrian or vehicular traffic.
1980
At this point, the company has held California State Licenses in categories of General Engineering, Building, Electrical, Plumbing, and Sanitation construction. Work completed by Dan Caputo Co.'s own forces normally included all major structural concrete and mechanical work with other project tasks being performed by subcontractors working under the company's direction. When required, Dan Caputo Co. has performed earthwork, demolition, pile driving, shoring electrical, and other specialty work with its own forces.
1982
Dan Caputo Co. constructs advanced wastewater treatment facilities for the city of Palo Alto. This resulted in the improvement of an existing 45 million gallon per day regional wastewater treatment plant which serves the cities of Palo Alto, Mountain View, and Los Altos. This project was completed with little to no interruption to the existing plant operations. Work for the connecting tie-ins was performed during low flow period between midnight and 5:00am.
1993
The Caputo's begin to exit the general contracting business to focus exclusively on commercial real estate investment opportunities under the related entity name, Caputo Associates.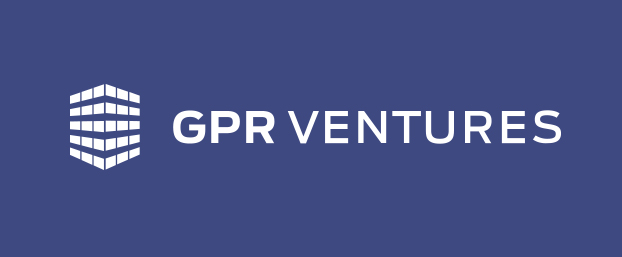 2011
Dan Caputo Co. partners with GPR Ventures to become the property management for their portfolio. GPR Ventures was started by Phillip Rolla and Glen Yonekura to maximize their combined acquisition-to-disposition expertise by providing real estate investment opportunity for a select group of sophisticated investors.
2021
Today, the company continues to be a family-owned establishment. Currently, Dan Caputo Co. manages approximately 2.7 million square feet of commercial property in the Silicon Valley, Sacramento, Salinas, and Salt Lake City.